About Dr. Sandrine Mubenga, PE
Dr. Mubenga Works in Renewable, Green, & Photovoltaic Energy Systems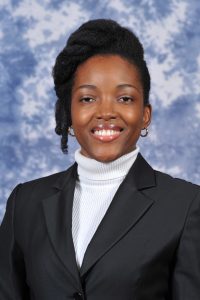 Dr. Ngalula Sandrine Mubenga, PE is Assistant Professor at the Engineering Technology Department at the University of Toledo (UT) in Toledo, Ohio, USA where  she received the Bachelor's (2005), Master's (2008) and Doctorate (2017) degrees in Electrical Engineering with honors. Her research areas include battery management systems, electric vehicles, and renewable energy systems. Her battery research won the 2018 IEEE National Aerospace & Electronics Conference Best Poster Award in the USA, while her hybrid electric vehicle research won the 2008 University of Toledo EECS Dept. Most Outstanding Thesis Award. Prior to this role, Sandrine was the Manager of Electrical Engineering in Facilities and Construction at UT where she helped manage a $65 million budget and achieved savings of $5 million dollars.  She is a registered Professional Engineer in the state of Ohio, USA.
In 2018 Sandrine founded the STEM DRC Initiative as a non-profit organization that aims to encourage Science Technology Engineering and Math (STEM) education in the D.R.Congo. She is a Member of the Board of Directors at the Société Nationale d' Eléctricité (SNEL) which is the main electric utility company in the D.R.Congo.  Sandrine is also an entrepreneur. Since 2011, she is the founder and Chief Executive Officer of SMIN Power Group, a solar developer with offices in the USA and in the D.R.Congo. The company was named a Top 5 Innovator by Congo Na Paris Magazine for bringing renewable energy in the D.R.Congo.
Sandrine is a member of the Institute of Electrical and Electronics Engineers (IEEE). In 2009, she started and chaired the first IEEE Graduate of the Last Decade Group in the Toledo Section. She chaired the 2017 IEEE PowerAfrica Conference in Ghana with attendees from over 30 countries. Sandrine received many awards including the 2017 Africas Most Influential Women Award in Engineering and Manufacturing by CEO Magazine as well as the 2018 IEEE Engineer of the Year Award.  She was inducted in the 2018-2019 World Association of Cooperative Education Co-op Hall of Fame.  In 2020 she was elected a senior member in the IEEE.
Dr. Mubenga is an experienced Electrical Engineer with areas of expertise in renewable energy systems, photovoltaic systems design and integration, energy management, project management, distribution planning & protection, and arc flash mitigation. She holds a Professional Engineer (PE) license in Ohio since 2011. She designed/approved/interconnected 50MW of solar photovoltaic systems.
Research interests include battery energy storage, renewable energy systems, electric vehicles, and energy efficiency. Teaching experience at the University of Toledo includes working as a Teacher Assistant supervising and grading undergraduate lab sessions and/or coursework for Energy Conversion, Electronics 1, Electric Machines, and Digital Signal Processing for 2 years. As part of the University of Toledo EIT department, she worked for 4 years as Computer Lab Assistant responsible to assist students with various computer applications. Holds a strong record of externally funded grants and scholarships.
Dr. Mubenga is a member of the Institute of Electrical and Electronic Engineers (IEEE) where she was Past-Chair of the IEEE Toledo Chapter. She was named 2010 Young Engineer of the Year by the IEEE Toledo Section. She served as the General Conference Chair for the 2017 IEEE PES & IAS PowerAfrica Conference in Ghana, which raised $21,000, received 201 submissions and attracted 228 attendees from 33 countries. She has also earned multiple awards and honors including being appointed by the President of the Democratic Republic of the Congo as a Member of the Board of Directors for the Societe Nationale d' Electricite (SNEL), which is the national electric utility company in the D.R. Congo.