Research Interests:
Dr. Sandrine Mubenga, PE
Power systems, battery energy storage, renewable energy systems, electric vehicles, and
energy efficiency. We conduct our research in the Power Electronics Laboratory which is
housed in North Engineering Building Room 2012.
A Case Study on the Hybridization of an Electric Vehicle and the Development of a Solar Powered Hydrogen Generating Station | Link To Paper

A Bilevel Equalizer for Large Lithium Ion Batteries | Link to Article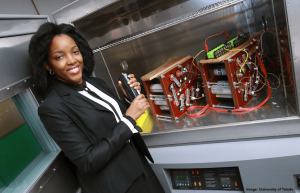 A Low Cost Hybrid Equalizer for Lithium Ion BESS | Link to Paper
A BiLevel Equalizer For Lithium Ion Batteries | Link to Paper
Grid Connected Solar Photovoltaic in Island States: Challenges, Opportunities and Waste Management | Link to Paper
---
Our research has been sponsored by grants from the Ohio Department of Development,  iCorps@Ohio, the Rocket Fuel Fund, and TVSF.