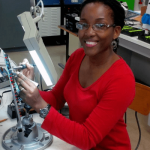 Principal Advisor:  Dr. Sandrine Mubenga:
Education / Registration
Philosophy Doctorate degree in Electrical Engineering,GPA:3.934/4.000, University of Toledo, Ohio –  December 2017. Dissertation: "A Battery Management System for Large Li-ion Batteries with Bilevel Equalization". Committee: Drs. Tom Stuart (Chair), Alam Mansoor, Richard Molyet, Mohsin Jamali, and Matthew Franchetti.
Master of Science degree in Electrical Engineering with honors, GPA: 3.943/4.000, University of Toledo,
Ohio. Earned the Most Outstanding Master Thesis Award in Electrical Engineering.
Committee: Drs. Tom Stuart (Chair), Mohsin Jamali, Richard Molyet, and Salari.
Bachelor of Science degree in Electrical Engineering, GPA: 3.573 /4.000, Cum Laude, University of
Toledo, Ohio.
Certified as a Photovoltaic System Installer / Designer Apprentice, Owens Community College.
Ohio Facility Construction Commission (OFCC) Higher Education Administration Certification, 2013.
Academic Experience
1. University of Toledo, Toledo, Ohio, USA (01/2018- Present) Assistant Professor (Tenure-Track), Engineering Technology
Teach Electrical Engineering classes and labs, conducts research, advise undergraduate/graduate
students, and serve on various committees. Courses include Digital Logic Fundamentals, Embedded
Systems Design, and Network Analysis. For more information, see p 6 -14.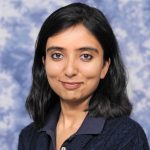 Graduate Student:  Kripa Sharma
Kripa Sharma is the graduate student in EECS department. She joined University of Toledo in Fall 2017. She is doing research in battery management system with Dr. Sandrine Ngalula Mubenga and Dr.Thomas Stuart. She has a MBA degree and has hands-on experience in energy audits. Her field of interest is renewable energy, power-electronics and battery management systems.
Ms Sharma has been nominated by the College of Engineering to participate in the College of Business and Innovation's Advance Leadership Academy (COBI ALA). The COBI ALA program is a selective leadership development program for graduate students from all Colleges.  The goal of the Leadership Academy is to improve the leadership skill set, thinking, and acumen of participants to improve their career trajectory in a dynamic, pan-collegial learning environment.