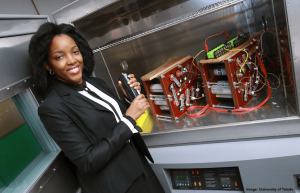 Dr. Mubenga will be the main guest speaker and will make a presentation on battery technology at the Institute of Electronics and Electrical Engineers (IEEE) Toledo Section dinner on 3/28/2019.
IEEE is the world's largest technical professional organization dedicated to advancing technology for humanity.
Battery Research Presentation
The IEEE Toledo Section's Young Professional's Group will host an event on Thursday March 28, 2019.  The highlight of the event will be a presentation on current battery research and development at the University of Toledo.
This event also gives you the opportunity to network with IEEE young professionals, members and students.
The guest speaker is Dr N S Mubenga, whose groundbreaking research has been featured in several publications and the local press, including the Toledo Blade. At this event she will present on her ongoing work on Bilevel Equalizers. These equalizers can be used for balancing the voltages of Lithium Ion batteries, thereby improving on their cost and performance.
---
Abstract: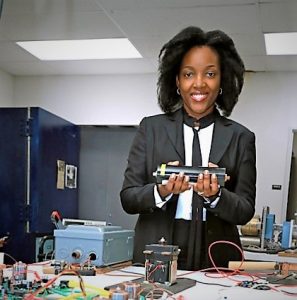 Electric powered aerospace vehicles such as drones (UAVs) are now in widespread use, and recent reports indicate their development is going to accelerate. Virtually all of these types of UAVs now use lithium ion batteries (LIB), but LIBs require electronic equalizer circuits (EQU) to balance the cell voltages. Several types of EQUs have been proposed, but all present versions have cost and/or performance problems. However, a new type of hybrid EQU called the Bilevel Equalizer (BEQ) has been proposed that avoids these problems.
Dr. Ngalula Sandrine Mubenga, PE is Assistant Professor at the Engineering Technology Department at the University of Toledo (UT), Ohio, USA where she received the Bachelor's (2005), Master's (2008) and Doctorate (2017) degrees in Electrical Engineering with honors. Her research areas include battery management systems, electric vehicles, and renewable energy systems. Her battery research won the 2018 IEEE National Aerospace & Electronics Conference Best Poster Award in the USA, while her hybrid electric vehicle research won the 2008 University of Toledo EECS Dept. Most Outstanding Thesis Award. Prior to this role, Sandrine was the Manager of Electrical Engineering at UT where she helped manage a $65 million budget. She is a registered Professional Engineer in the state of Ohio, USA.
Sandrine is also an entrepreneur. Since 2011, she is the founder and Chief Executive Officer of SMIN Power Group, a solar developer with offices in the USA and in the D.R.Congo. In 2018, Sandrine founded the STEM DRC Initiative, a non-profit organization that aims to encourage Science Technology Engineering and Math (STEM) in the D.R.Congo. She is a Member of the Board of Directors at the Société Nationale d' Eléctricité, the main electric utility company in the D.R.Congo.
Sandrine is a member of the Institute of Electrical and Electronics Engineers (IEEE). In 2009, she started and chaired the first IEEE Graduate of the Last Decade Group in the Toledo Section. She chaired the 2017 IEEE PowerAfrica Conference in Ghana with attendees from over 30 countries. Sandrine received many awards including the 2018 IEEE Engineer of the Year Award, the 2017 Africa Most Influential Women Award in Engineering and Manufacturing by CEO Magazine, and she was inducted in the 2018-2019 World Association of Cooperative Education Co-op Hall of Fame.
For more info http://ewh.ieee.org/r4/toledo/