Keynote Address, 2020 Girl Power Event, Imagination Station, Toledo Ohio USA
Dr. Mubenga is scheduled to give a Keynote Address at the Girl Power Event taking place at the Imagination Station in Toledo Ohio on February 8, 2020.  The event is designed to expose young ladies in grades 3 – 8 to female STEM professionals and encourage them to pursue opportunities for Education and Careers in STEM fields.
Girl Power Event Details: (As published by Imagination Station) 
During the daylong event, the young ladies can expect all the following:
To experience an inspirational keynote speech by a local female leader in a STEM field
To meet successful women working as experts in STEM fields, and work directly with them in hands-on career-specific workshops and activities
To expand knowledge of STEM industries and emerging career paths
Schedule for the day: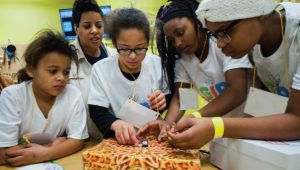 8:30am – Registration
9am – 12pm – Morning workshops with over 30 STEM professionals
12:15 – 1:30pm – Lunch and Keynote Speaker: Dr. Sandrine Mubenga, PhD, PE, Electrical Engineer
1:30 – 5pm – Explore Imagination Station and enjoy more than 30 hands-on activities provided by STEM professionals throughout the science center
What is Girl Power?
This extraordinary annual event offers young ladies in grades 3 – 8 the opportunity to meet women in the STEM fields and learn more about available careers in STEM fields. Attendees will hear from an inspiring keynote speaker, experience a question and answer session with a panel of STEM professionals, watch a special EXTREME demonstration from Imagination Station, participate in hands-on activities prepared by STEM professionals, and explore the science center.
Speakers and Activities:
2020 Keynote Speaker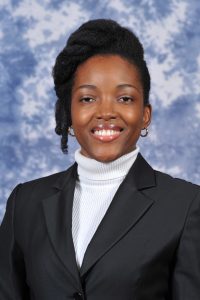 Dr. Sandrine Mubenga, PhD, PE, Electrical Engineer and Professor at The University of Toledo is a highly skilled electrical engineer, with research areas in battery management systems, electric vehicles, and renewable energy systems.

She is the founder of the STEM DRC Initiative, a nonprofit organization that aims to encourage Science Technology Engineering and Math (STEM) in the Democratic Republic of the Congo. Dr. Mubenga is also the founder and CEO of SMIN Power Group, a solar developer with offices in the USA and Democratic Republic of the Congo. In 2017, she was the Winner of Africa's Most Influential Women Award in Engineering and Manufacturing by CEO Magazine.
Attendees will also meet other incredible women working in STEM Fields, including:   
Sara Floyd, Principal Analytical Instrumentation Specialist, Owens-Illinois
Kelly Heidbreder, Meteorologist, WTOL
Jessica Hyde, Landscape Architect, The Collaborative
Karen Karl, Senior Estimating Engineer, Lathrop
Dr. Angelica Vazquez-Ortega, Assistant Professor, Bowling Green State University
The program for the day includes fun experiments and learning activities like building marshmallow bridges, Alka-Seltzer rockets, and more!
Source:  Imagination Station, retrieved online February 6, 2020 from https://www.imaginationstationtoledo.org/visit/girl-power