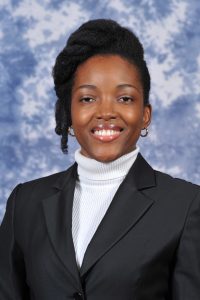 Dr. Mubenga is a professor of electrical engineering at the University of Toledo in the State of Ohio who divides her life between the United States and her native country, Congo-Kinshasa.
After coming close to death from lack of electricity as a young woman growing up in the Democratic Republic of the Congo (DRC), Dr. Sandrine Mubenga decided to become an energy specialist. She vowed to bring electricity to the DRC.  She has since dedicated her life to becoming an electrical engineer in a position to improve electrification in the DRC.
After coming to America to earn her Bachelors and Masters Degrees in electrical engineering, and after earning the PE designation as a Professional Engineer, she began giving back to her native country.  Dr. Mubenga began serving in gradually escalating official capacities in the energy sector in the DRC.  Currently, by the appointment of Félix Tshisekedi,  President of the DRC, her current position is that she is now Director of the Electricity Regulatory Authority in the Democratic Republic of Congo.
Another project she has launched is the STEM DRC Initiative.  This organization is a registered non-profit organization that funds STEM scholarships for Congolese students and helps her native country combat the Coronavirus Pandemic.
IMPACT:
In 2018 we started to offer 6 scholarships to students in STEM, Sciences, Technologies, Engineering and Maths, so that we have more young people in these fields. 
Then, with friends, we created the STEM DRC Initiative. 
In 2019 we gave 53 scholarships
In 2020 our students invented a new emergency respirator to save COVID-19 patients
In 2021 we are funding 100 scholarships
Dr. Mubenga is also very active in the face of the coronavirus pandemic. Her NGO, STEM DRC Initiative, has started manufacturing respirators. The functional and pilot prototypes are complete and the development process continues.
The words, " Do my best in the pursuit of excellence, therefore in everything I do, do my best" resonate with Dr. Mubenga.  For example, when the University of Toledo entrusted her with the energy management of the five campuses in 2012, she saved the university 5 million dollars in five years.
Source:  https://www.rfi.fr/fr/podcasts/aujourd-hui-l-%C3%A9conomie-le-portrait/20210312-sandrine-mubenga-la-femme-qui-contr%C3%B4le-le-secteur-de-l-%C3%A9nergie-moderne-en-rdc
Permalink: https://www.rfi.fr/fr/podcasts/aujourd-hui-l-%C3%A9conomie-le-portrait/20210312-sandrine-mubenga-la-femme-qui-contr%C3%B4le-le-secteur-de-l-%C3%A9nergie-moderne-en-rdc